KN Drinks Logistics is a specialist drinks-only service provision. KNDL store and distribute alcoholic and soft drinks to supermarkets (Primary Operations), pubs and clubs (Secondary Operations) throughout the UK.
Operating a team of 2,500 specialists across an extensive network of sites and regional distribution centres; with drivers and draymen capable to operate a variety of different delivery techniques, allowing supply of products to the diverse range of establishments.
Responsive SAP Business Suite (SAP ECC) managed services for supply chain and operationally intensive specialist 3rd Party Logistics Service Provider (LSP) KN Drinks Logistics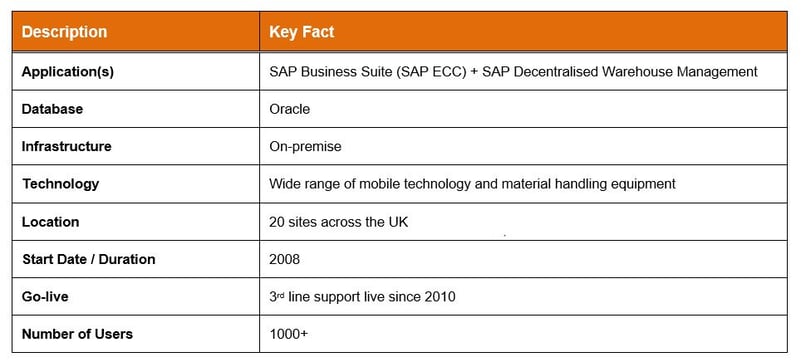 The Challenge
Business operations across the KN Drink Logistics network, which consists of over 20 logistics operations sites, are supported by SAP Business Suite and SAP Decentralised Warehouse Management platforms. These systems are tightly integrated with a wide range of other internal business systems, business partner systems and customer systems to provide real-time stock availability and logistics operations updates which is a central benefit to the specialist third party logistics services provided by KN Drink Logistics.
With thousands of users, many of whom are working through performance sensitive mobile devices, this supply chain intensive landscape required specialised managed services to keep the operation running smoothly and maintain business as usual service levels to KN Drink Logistics extensive client base. Furthermore, responsive, flexible service was required to cater for new, frequently changing requirements such as new contracts or facilities opening within the network and needing support within the SAP landscape.
The Solution
KN Drinks Logistics commissioned Rocket to put in place a responsive support model to ensure the SAP solution landscape would be robust, scalable and agile. Providing fast service levels to quickly address any issues that may arise and avoid any disruption to their drinks logistics services, or their customers supply chains.
The Rocket SAP managed services put in place are specifically designed for supply chain and operationally intensive situations where a system issue can quickly manifest into a mission critical impact if not resolved quickly.
This was achieved with a local, UK based support team providing a short, fast pathway to expertise; a key success factor in achieving very fast resolution times.
The managed services commercial structure facilitates fast service levels; using Rockets inclusive support ticket approach that removes potential delays of a support incident triage process and allows quick deployment of experts to action support request issues whilst keeping the operation running.
Business Outcomes Highlights
> 98% on time repair

Average repair time < 24 hours across all priorities
"

Rocket have been our support partner for over a decade during which time they have brought their expertise and knowledge of the SAP landscape into our business, understood our processes and ways of working and supported us through a variety of initiatives, system changes and support incidents.
Throughout our engagement, I always found the team exceptionally knowledgeable, responsive to our business needs and able to work with us in a fast-paced environment."
- Dan Halstead, Business Systems Manager KN Drinks Logistics
June 2020