Creating High Performance Mobile Workforces
Optimising the SAP Mobile User Experience
Significantly improve the user experience up to 200% faster than with SAP alone
Rocket Mobile brings the best of technical simplicity, improved usability and extended capability to SAP run businesses
Compatible with SAP ECC, S/4HANA and SAP digital supply chain platforms (Such as SAP Extended Warehouse Management, Warehouse Management, Inventory Management, Production, Plant Maintenance and much more)​ and fully integrated into SAP without complex middleware, interfaces or external software platforms, helping you optimise material handling processes and create a highly effective mobile workforce, quickly and effectively.

Rocket Mobile brings the best of technical simplicity, improved usability and extended capability to SAP run businesses.
Watch Rocket:Mobile in action
Increase productivity across a full range of activities
Rocket Mobile dramatically improves the ease of use and the user experience of warehouse and other supply chain workers to increase productivity, quality, accountability and supports a full range of activities and exceptions in a typical warehouse, as well as broader operational activities.
Clean and intuitive screens

Enhanced presentation of information

Additional visual confirmations

Improved navigation

Access to supporting information like lists and images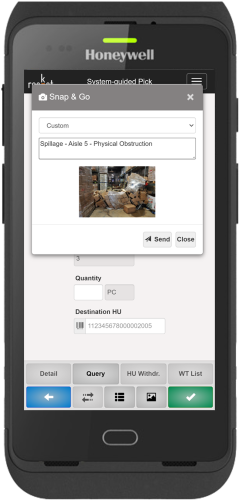 Snap and Go
Ability to take a photo and provide narrative on warehouse issues

Creates a self-sufficient workforce with swifter issue resolution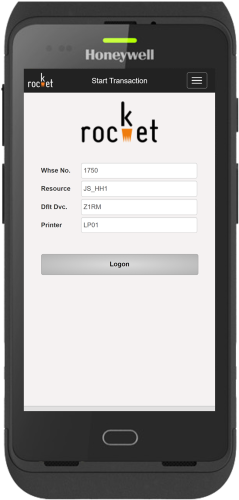 Enhanced Presentation and Design
Improved option alignment, clutter free, providing fast and easy access

Reduce user adoption time and improve productivity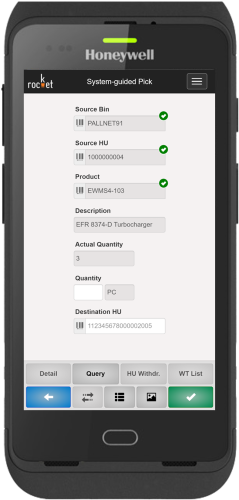 Visual Confirmations
Provides visual confirmations on items scanned

Improves accuracy, provides confidence and reduces errors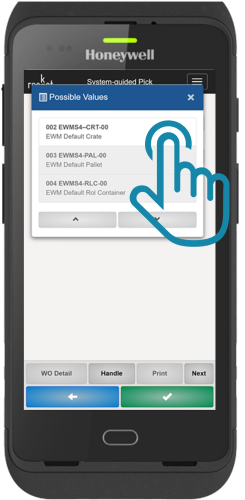 Selection Lists
Customisable drop-down lists for Handling Units

Reduction in manual entry and improve productivity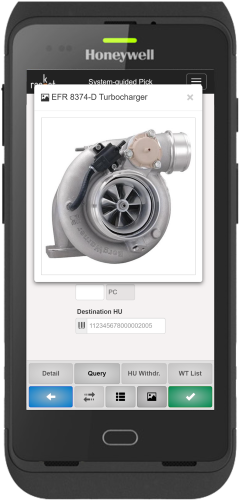 Product Imaging
Product image is displayed on the device

Improves user engagement, accuracy and user confidence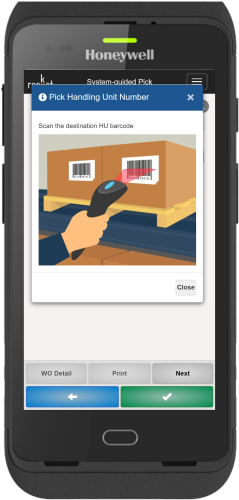 Contextual Help
Access to task specific procedures and best practice information

Improves training and creates a self-sufficient workforce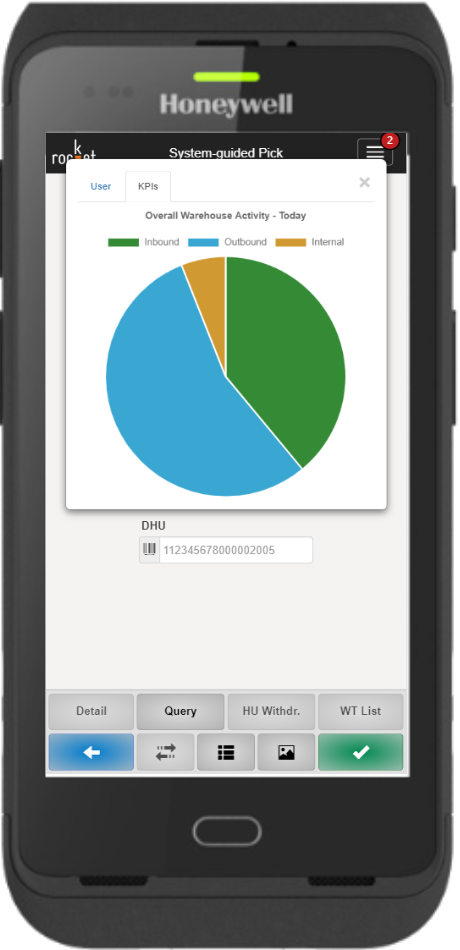 Performance KPI's
Easily monitor workforce productivity against KPIs

Quickly identify training needs and top performers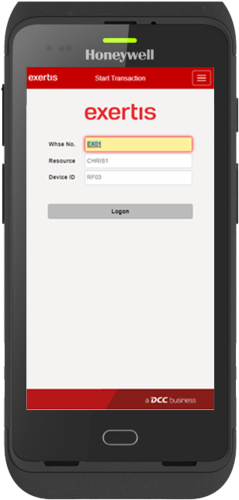 Branding and Styling
Visually enhance by applying company specific branding and styling

Improve user engagement and adoption
Case Studies
Be inspired by our project success

Mobile SAP Ecommerce Order Fulfilment. Increasing picking productivity and reducing training times for new staff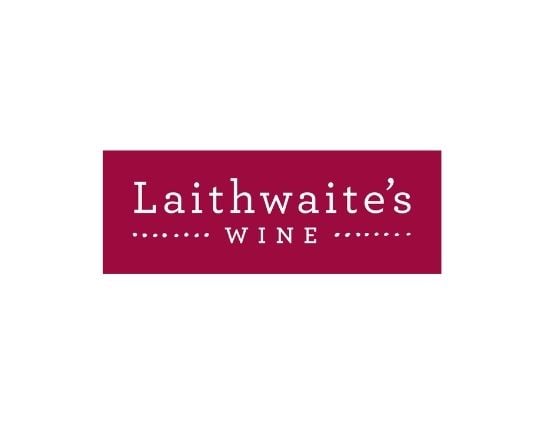 Streamlining Warehouse Management and Distribution. Through-put by increased by 50%. Individual packer efficiency now 66% higher.
Rocket:Mobile is packed with industry best practices to quickly address common challenges, such as:
Life Sciences Supply Chain
GxP validation and processes
GxP validation is proven to be simplified for SAP run Life Sciences businesses thanks to the SAP-embedded Rocket Mobile architecture.
Enforce Good Manufacturing Processes (GMP) with mobile Inspection Checklists for raw materials and finished products, removing paper and integrating results directly with quality systems.
Good Distribution Process (GDP) rigor is driven throughout thanks to Rocket Mobile role-centric warehousing best practices.
Health & Safety incident capture in real-time.
Healthcare Logistics
User Experience, Support and Audit
Operational support with easily accessible process information and help documentation directly on the mobile device.
Digital audit trails are enabled with signature, image and document capture simply embedded into any process.
Offline working to support activities where Wi-Fi coverage is unavailable ensures seamless working in hospital environments.
User experience for low training and ease of use for non-logistics workforce is provided as standard.
Retail
Customer Service and Inventory
Customer facing activities such as order collection, reordering or queries are simplified with signature and image capture, product scanning and Optical Character Recognition (OCR), all in an intuitive branded user interface.
In-store inventory processes such as receiving, replenishment and picking are quickly streamlined, with ease of use and role support tailored for store operatives.
Device sharing between store operatives is simple and secure with Rocket Mobile user profiles, allowing fast user switching.
Public Sector
Accessibility, Diversity and Inclusion
UK equality act compliance by enabling the required reasonable adjustments to provide accessible mobile software ensuring disabled workers; including those with visual impairments, are not disadvantaged.
Accessibility regulations: Allows Public Sector bodies providing mobile applications to meet accessibility standards.
Web Content Accessibility Guidelines: Easily implement the WCAG standards as adopted by the UK government and a best practice for any organisation to ensure mobile software UIs are accessible to people with disabilities including visual impairments.
Non-disruptive installation guaranteed to improve native SAP Mobility
Rocket:Mobile Pricing Options
See how we can optimise the SAP Mobile user experience for your organisation
Book a demo or reach our team to ask your questions
Book a demo
Technical advantages of Rocket Mobile
Fully integrated within SAP All process logic


All process logic & data in SAP






User profiles & performance KPIs






Technical advantages of Rocket:Mobile
100% Native SAP Technology, Simple, Elegant and Fully Supported
SAP Process Configuration Unchanged
Instant Improvements – No Coding or Configuration for Initial Benefits
Can Blend SAP and Non-SAP Apps and Data Into Single User Interface
100% SAP Compatibility with SAP EWM & WM RF Frameworks, SAP ECC & S/4HANA
Supports Your Existing ITS Mobile Transactions
Responsive Framework Supporting Multiple Device Types & Screen Formats
Zero Risk Non-Disruptive Deployment
Supports Modern Rugged Commercial Devices and Consumer Smart Devices
Enables Fast Code-Free User Interface Improvements & Changes
Develop Your Own Transactions With Native SAP ABAP, No Proprietary Development Skills Required
No Middleware, Interfaces, or External Platforms or Data
There are many tangible benefits to providing an optimised mobile experience to your workforce

Reduce adoption time & lower training costs

Present a modern, brand aligned experience to workforce & customers

Increase productivity & usability

Create a performance culture

Benefit from advanced mobile scenarios
Support wide range of practical operational activities
Improve user self-sufficiency & reduce support calls

Drive up quality & optimise operations
Interested in being a Rocket Mobile re-seller?
Please get in touch today to learn about our partner packages
Request further details
Device validation
Ensure your selected mobile technology works effectively across your supply chain
Learn more
SAP digital supply chain. Rocket:Mobile frequently asked questions
Discover the answers to our most pressing Rocket:Mobile questions with our comprehensive FAQ section
Rocket:Mobile contains Rocket IP, but is it built using industry-standards for mobile and web development (HTML, CSS, JavaScript and Bootstrap)?
Are the Rocket:Mobile components used for initial setup only or are they required for day to day running of the live solution?
What are the costs of the Rocket:Mobile?
How are the Rocket:Mobile components implemented into a Customer SAP Landscape?
What are the minimum device specifications to run Rocket:Mobile?
Which Browsers does Rocket:Mobile run on?
Is there anything specific to be loaded onto the client device?
Does Rocket:Mobile include mobile device management tools to support deployment and monitoring?
Does the solution offer any substantial performance gains over standard SAP ITS?
What tech skills are required for development with Rocket:Mobile?
What devices does Rocket:Mobile work on?
Does Rocket:Mobile work alongside Avalanche mobile device management software?
What are the migration steps from SAP ITS Mobile and customer transactions to Rocket:Mobile?
Does Rocket:Mobile on SAP EWM require any modifications to the standard SAP?
What is the Wi-Fi data traffic like with Rocket:Mobile? Heavy, light?
Project Success is
Rocket

Science
Thinking

and

Delivering Differently