Transform consumer in-store retail experience through real-time asset location tracking for
Google
The Challenge
The Google retail team responsible for creation of the pop-up shops called 'Made by Google' to drive retail sales of Google's own brand range of hardware devices wanted to explore how they could transform the consumer in-store retail experience by allowing greater freedom to consumers to interact with the devices in-store.
The project challenge was both technical and experiential, with the goal of creating a working pilot for real-time tracking of a wide range of Google devices including VR headsets, mobile phones, and voice-activated Google Home devices to allow consumers to interact freely with the devices within the store and even request sales support at the push of a button.
The Solution & Approach
Using the SAP Technology Platform (formerly known as SAP Cloud Platform) and drawing on mobile technology expertise from across the supply chain, Rocket created a Bluetooth Low Energy (BLE) Beacon asset tracking platform.
The Rocket Retail Asset Tracking Platform provides a digital solution across the full store life cycle.
Store commissioning

New store floorplan can be quickly set up, including the definition of store zones and warning zones (such as areas closer to the exits).
Store staff mobile devices are registered for alerting and notifications.
The personalised Google Store Floorplan.

Adding new products/assets

A new product/asset can be easily registered through a smartphone, tablet or PC via a store administration portal.

Live tracking

Products/assets can be tracked and located within the store in real-time using a smartphone, tablet, or PC.

Alerting

When a product moves into a warning zone the shop staff are issued a notification on their registered mobile devices.

Management

Beacons and Nodes that support the solution are easily managed through the Rocket Retail Asset Tracking Platform store management portal.
Business Outcomes
Successful pilot demonstrated indoor real-time asset tracking to the required level of accuracy
Easy creation of a graphical store layout
Real-time visual assets location within store zones
Immediate alerting of assets moving toward store exit area
Salesperson request via a push of a button
Opportunity for other data collection, such as drop sensing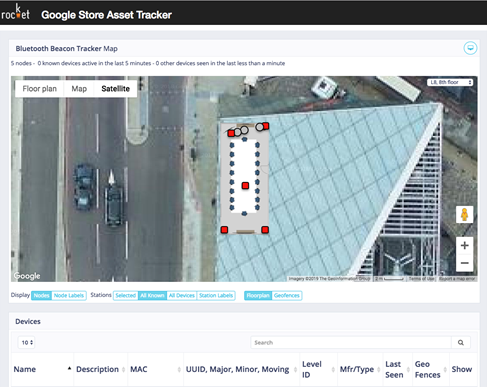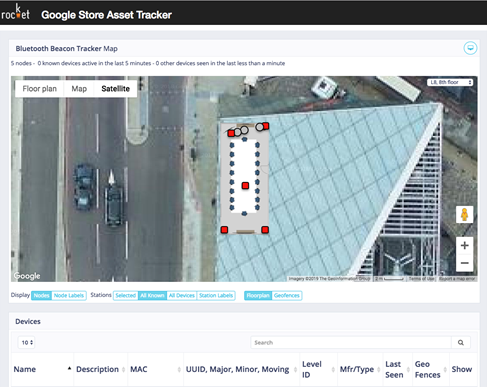 Get in touch below to find out more about how we helped Google: